February 17
Bowman-Pole Canyon-Porter Fork
Elevations, slope angles and aspects
6200-10400', angles over 35°, north facing aspects.
Snow conditions
4-8"of new, moderate density snow over a mostly crusted base.
The never ending wind scoured windward aspects,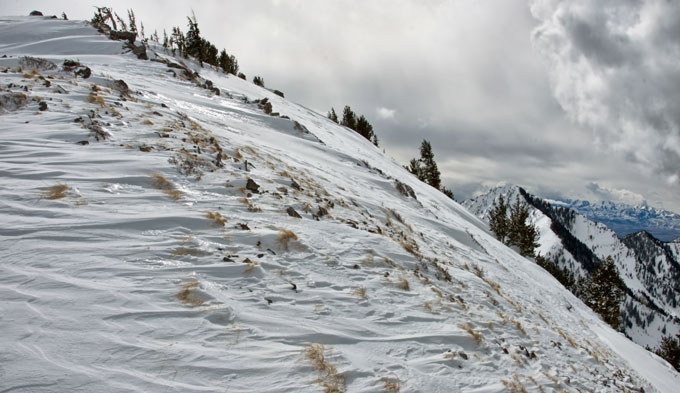 especially near the ridge with, shallow drifts forming on the lee side.
Down off the ridges, not quite enough new snow to eliminate feeling the old base while skiing the steeper slopes.
Weather
Overcast to partly cloudy skies, moderate temperatures. Winds were from the west early, switching to south-southeast later in the day.
Avalanche activity
One blown in crown was observed on southeast facing, initiated from a point release sluff.
The crown was well down off the ridge, 30-40' wide and up to about a foot deep.
The resulting slide left a debris pile ar the base of the slope in upper Butler Basin.
New snow sluffing was observed on the south east face of Raymond both natural and the result of ski cutting.

Evaluation
Mostly stable snow.
Instability would be from wind drifts on a variety of aspects because of several different wind direction periods and from new snow sluffing.
Wet activity with warming.
© wowasatch.com